3 Hurt in I-680 Freeway Crash in Alamo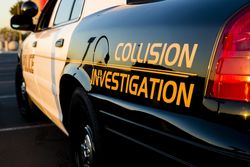 ALAMO, Calif. (June 13, 2018) — Three people were hospitalized Wednesday afternoon following a 3-vehicle collision on the Interstate 680 Freeway at the Stone Valley Road off ramp, a California Highway Patrol report said.
The crash took place about 1:23 p.m. and prompted a SigAlert. A black Chevrolet HHR SUV was sideways in the freeway. Other vehicles involved were a black BMW 5 Series and a black Volkswagen Jetta. The vehicles were blocking the middle lanes of the roadway. A gray Toyota may have also been involved.
Police are heading up an investigation into the crash to determine fault.
Alamo Crash Investigation
It is unknown at this time who is going to be held responsible for this collision. All parties involved and witnesses are being questioned in order to piece together the sequence of events that led to this crash. There are still many unanswered questions including whether or not any drivers disobeyed traffic laws.
We offer our prayers to all those affected by this collision.
If a negligent driver or another entity is at fault for a collision resulting in injuries to you or a loved one, there may be grounds for a personal injury or wrongful death claim. While this is always a personal decision, for many the financial losses associated with a traffic accident are significant.
If you, or your loved one, have been hurt in a California traffic accident, we urge you to contact Johnson Attorneys Group today and speak with one of our experienced personal injury lawyers to help you. We will bring our expertise to your case and guide you every step of the way. Give our office a call at 855-703-4186 for a free consultation.
Johnson Attorneys Group is a proud, long-time supporter of Mothers Against Drunk Driving (MADD). – sks
James Johnson is passionate about helping his injured clients recover losses and receive the maximum compensation available. Under his leadership, he has recovered more than $100 million in verdicts and settlements for his deserving clients.
Latest posts by James Johnson (see all)