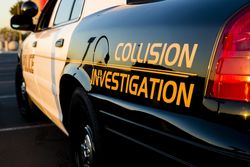 BAY POINT, Calif. (July 18, 2018) — A multi-vehicle collision was reported Wednesday afternoon on the westbound Highway 4 at Bailey Road, according to the California Highway Patrol.
The crash took place about 12:23 p.m. between a tan Lexus, a black Jeep, a gray Nissan sedan, a white Kia sedan and a grey Toyota Corolla. The CHP report stated that the Nissan was reportedly speeding prior to the collision. All lanes of the highway were blocked after the crash. Three vehicles were on the rights shoulder and one was facing the wrong way and blocking  the Nos. 3 and 4 lanes.
Police issued a SigAlert for the collision due to the vehicles blocking the roadway.
Traffic Accident Investigation
At this time, we do not know if the Nissan caused the crash or not. A full investigation into the incident is underway by police to determine fault.
We hope that anyone who is hurt has a full recovery. 
If a negligent driver or another entity is at fault for a collision resulting in injuries to you or a loved one, there may be grounds for a personal injury or wrongful death claim. While this is always a personal decision, for many the financial losses associated with a traffic accident are significant.
If you, or your loved one, have been hurt in a California traffic accident, we urge you to contact Johnson Attorneys Group today and speak with one of our experienced personal injury lawyers to help you. We will bring our expertise to your case and guide you every step of the way. Give our office a call at 855-703-4186 for a free consultation.
Johnson Attorneys Group is a proud, long-time supporter of Mothers Against Drunk Driving (MADD)
James Johnson is passionate about educating the public about the myriad of individuals who are not following the rules of the road.His hope is to bring public awareness in order to change the laws to better protect our communities.
Latest posts by James Johnson (see all)