Man, 57, Victim in Traffic Accident
LOCATION: Rio Linda
DATE OF INCIDENT: Saturday, October 6th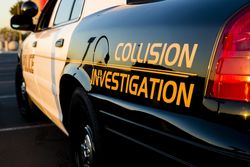 October 10, 2018- According to the Rio Linda Police Department, Bradley Avery, 57, has been identified as the man fatally injured in a traffic accident over this past weekend.
According to reports, the incident occurred on Elkhorn Boulevard just west of 16th Street at 7:23 p.m. precisely.
At this time, there are very limited details that have been provided thus far in regards to the type of accident whether this was an auto collision or a pedestrian versus vehicle.
It remains unclear whether Avery died at the scene or at a local area hospital as that information has not been unveiled either.
No further facts or information has been made available at this time as the incident is being investigated by both California Highway Patrol and Rio Linda police officials.
*We offer our warmest of thoughts, our prayers, and condolences to the family members of the victim as they search for peace and comfort.
Contact our law firm today if you are looking for counsel at 855-703-4186.
James Johnson is passionate about educating the public about the myriad of individuals who are not following the rules of the road.His hope is to bring public awareness in order to change the laws to better protect our communities.
Latest posts by James M. Johnson (see all)