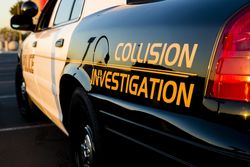 BRENTWOOD, Calif. (July 18, 2018) — Two people were hurt Monday afternoon when their windshield was struck by a battery-operated drill that fell off of a vehicle in unincorporated Contra Costa County, according to CBS News.
The freak accident took place about 3:54 p.m. on July 16th. The drill was wedged in the middle of the windshield and the glass was smashed in. The drill fell off a vehicle whose driver did not stop. Paramedics responded to help the two injured people, but the extent of their injuries was not disclosed.
Witnesses are call the CHP's Contra Costa-area office at (925) 646-4980.
Traffic Accident Investigation
At this time, it appears the driver who lost the drill is at fault. Unfortunately, they did not stop after losing the drill that crashed into the other person's windshield.
We hope that anyone who is hurt has a full recovery. 
If a negligent driver or another entity is at fault for a collision resulting in injuries to you or a loved one, there may be grounds for a personal injury or wrongful death claim. While this is always a personal decision, for many the financial losses associated with a traffic accident are significant.
If you, or your loved one, have been hurt in a California traffic accident, we urge you to contact Johnson Attorneys Group today and speak with one of our experienced personal injury lawyers to help you. We will bring our expertise to your case and guide you every step of the way. Give our office a call at 855-703-4186 for a free consultation.
Johnson Attorneys Group is a proud, long-time supporter of Mothers Against Drunk Driving (MADD)
James Johnson is passionate about educating the public about the myriad of individuals who are not following the rules of the road.His hope is to bring public awareness in order to change the laws to better protect our communities.
Latest posts by James Johnson (see all)