Person Killed in Traffic Crash in Westlake Area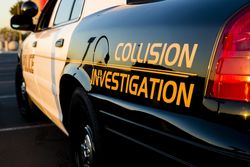 LOS ANGELES, Calif. (July 18)– A homeless man sleeping on the sidewalk died Wednesday afternoon when he was struck by a Porsche in the 400 block of North Coronado Avenue in the Westlake area.
About 1:20 p.m., police say the driver in a red Porsche 911 was speeding northbound on Coronado Avenue when it struck a black Honda Accord or Civic and then a parked van. The impact pushed the Porsche up onto the sidewalk where it struck the victim.
The victim, who has not been identified, died at the scene. The location of the collision is just south of the Hollywood (101) Freeway and east of Rampart
Boulevard.
Traffic Accident Investigation
At this time, it appears that speed may have played a major factor in the cause of this crash. The driver in the Porsche told authorities there was a mechanical problem that caused the crash. This is under investigation right now, but so far there are no arrests or citations.
We extend our prayers and condolences to the family of the man who died at this difficult time. 
If a negligent driver or another entity is at fault for a collision resulting in injuries to you or a loved one, there may be grounds for a personal injury or wrongful death claim. While this is always a personal decision, for many the financial losses associated with a traffic accident are significant.
If you, or your loved one, have been hurt in a California traffic accident, we urge you to contact Johnson Attorneys Group today and speak with one of our experienced personal injury lawyers to help you. We will bring our expertise to your case and guide you every step of the way. Give our office a call at 855-703-4186 for a free consultation.
Johnson Attorneys Group is a proud, long-time supporter of Mothers Against Drunk Driving (MADD)
James Johnson is passionate about educating the public about the myriad of individuals who are not following the rules of the road.His hope is to bring public awareness in order to change the laws to better protect our communities.
Latest posts by James Johnson (see all)