Fresno Woman, 29, Killed; Jackie Ray Cross, 27, of Dinuba Injured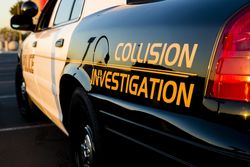 REEDLEY, Calif. (May 30, 2018) — A 29-year-old Fresno woman died in a rollover crash early Wednesday morning at Alta and Edgar avenues, according to the California Highway Patrol.
The 3 a.m. crash also injured a 27-year-old Jackie Cross of Dinuba after both victims were ejected as the vehicle overturned in this community, just northeast of Reedley, Police say that both victims were not wearing their seat belts.
It appears that whoever was driving the 1990 GMC, was unable to negotiate a curve in the roadway at Edgar Avenue. The vehicle veered off the road and overturned, just south of Highway 180. Paramedics responded, but were unable to save the woman who died at the scene. Cross was taken to Community Regional Medical Center for treatment of moderate injuries suffered in the crash.
The fatal crash remains under investigation by police.
Fatal Accident Investigation
Police are investigating this collision to determine the cause and liability. At this point, police do not know who was driving the vehicle or the relationship between the two occupants. We also do not know if drugs and or alcohol were factors in the collision. As police investigate this collision, these are some of the many questions that need to be addressed.
Our condolences go out to the family of the woman who died as they cope with news of this tragedy.
If a negligent driver or another entity is at fault for a collision resulting in injuries to you or a loved one, there may be grounds for a personal injury or wrongful death claim. While this is always a personal decision, for many the financial losses associated with a traffic accident are significant.
If you, or your loved one, have been hurt in a California traffic accident, we urge you to contact Johnson Attorneys Group today and speak with one of our experienced personal injury lawyers to help you. We will bring our expertise to your case and guide you every step of the way. Give our office a call at 855-703-4186 for a free consultation.
Johnson Attorneys Group is a proud, long-time supporter of Mothers Against Drunk Driving (MADD)
James Johnson is passionate about educating the public about the myriad of individuals who are not following the rules of the road.His hope is to bring public awareness in order to change the laws to better protect our communities.
Latest posts by James Johnson (see all)