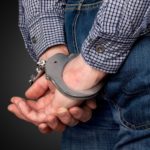 Car Rams Garage of Home at Brunswick and Princeton
Fresno, CA (April 19, 2023) – Police arrested the suspect following an alleged hit-and-run and DUI crash that occurred in the area of Highway 180 and Chestnut Avenue.
According to ABC30 News, a woman was driving a vehicle traveling in the streets of west central Fresno early Wednesday morning, April 19. Earlier reports indicated the driver got into an argument with someone who lives near the crossing of Brunswick and Princeton Avenue. Our sources indicated the allegedly drunk driver intentionally rammed the garage of person she was having an argument.
After the crash, the suspect accelerated and fled the scene. Officials said the intoxicated motorist ended up collided with an innocent motorist driving near the intersection of Highway 180 and Chestnut in east central Fresno.
DUI Suspect Arrested After Car Accident in Fresno
The suspect attempted to escape again but responding CHP officer apprehended her. Police eventually arrested the woman for hit-and-run, felony vandalism and driving drunk.
Meanwhile, no immediate information was available on the conditions of the innocent driver; and the occupants in the house rammed by the suspect. Further investigation is ongoing on the car crash that happened at Highway 180 and Chestnut in Fresno.
Source: ABC30 News
---
"The Johnson Attorneys Group does not represent any of the parties mentioned above. Furthermore, the Johnson Attorneys Group also does not intend to represent any of the parties discussed. If you would like to contribute any information or have any concern with this story, please contact us as soon as possible."
Latest posts by J Johnson
(see all)