Petaluma residents John Mello, 64, and Patricia Harris, 61, Killed in Head-on Crash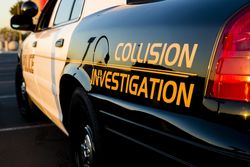 SONOMA COUNTY, Calif. (Oct. 8, 2018) —John Mello, 64, and Patricia Harris, 61, both died in a head-on crash between their two vehicles on Bodega Avenue, according to the Sonoma County Coroner's Office.
The crash took place about 10:25 a.m. on Sunday, Oct. 7th, near Lohrman Lane. Police investigating the tragedy believe that the van driven by Harris crossed double yellow lines as she traveled westbound and crashed head-on into the eastbound GMC pickup truck driven by Mello. Neither of the drivers showed signs of braking prior to impact, confirming that they didn't see it coming.
There were no indications that speed or recklessness was a factor.
The woman had been traveling with two dogs, one of the also died in the crash.
The CHP closed the road for several hours to investigate.
Those of us at Johnson Attorneys Group offer our sincere condolences to the families of these two people who died.
For answers to legal questions or if you are a family member and would like a free police report, please call us at 855-703-4186.
James Johnson is passionate about educating the public about the myriad of individuals who are not following the rules of the road.His hope is to bring public awareness in order to change the laws to better protect our communities.
Latest posts by James Johnson (see all)