Man and Woman Killed in Multi-Vehicle Crash on 5 Freeway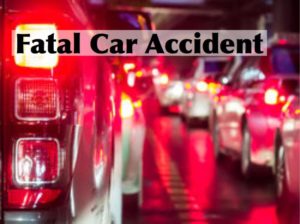 PACOIMA, Calif. (June 12, 2018) – Joshua Allen, 23, of Lakewood, and Jocelyn Gomez, 24, of South Gate both died Monday night in a violent multi-vehicle crash on the Interstate 5 Freeway at Osborne Street, according to the California Highway Patrol.
The crash took place about 8:40 p.m. on the southbound side of the freeway.
Police stated that Gomez was driving a 2004 Mitsubishi Lancer with two passengers including Allen and a 21-year-old South Gate woman. Her vehicle became disabled in the No. 1 lane of the freeway and was rear-ended by a 2017 Subaru WRX. The Subaru veered into the path of a 2014 Nissan Rogue SUV in the No. 3 lane and those vehicles collided with two other vehicles.
Both Gomez and Allen died at the scene, but their female passenger was hospitalized. Also hurt was the driver of the Subaru, a 21-year-old Saugus man who suffered minor injuries.  Others hurt were an 85-year-old woman who was in fair condition, according to the Los Angeles Fire Department. A 65-year-old man was evaluated at the scene, but it's unknown if he was also hospitalized.
Fatal Pacoima Crash Investigation
It is unknown at this time who is going to be held responsible for this collision.  We do not know the reason why the vehicle became disabled in the first place. Was it a mechanical malfunction? Did they run out of gas? There could be several motorists held liable or even the vehicle manufacturer if there was a defect or malfunction they are responsible for.
A full investigation should take place to ensure all responsible parties are identified.
We offer our heartfelt prayers to all those affected by this collision.
If a negligent driver or another entity is at fault for a collision resulting in injuries to you or a loved one, there may be grounds for a personal injury or wrongful death claim. While this is always a personal decision, for many the financial losses associated with a traffic accident are significant.
If you, or your loved one, have been hurt in a California traffic accident, we urge you to contact Johnson Attorneys Group today and speak with one of our experienced personal injury lawyers to help you. We will bring our expertise to your case and guide you every step of the way. Give our office a call at 855-703-4186 for a free consultation.
Johnson Attorneys Group is a proud, long-time supporter of Mothers Against Drunk Driving (MADD).
James Johnson is passionate about educating the public about the myriad of individuals who are not following the rules of the road.His hope is to bring public awareness in order to change the laws to better protect our communities.
Latest posts by James Johnson (see all)