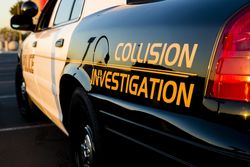 LA CANADA FLINTRIDGE, Calif. (Oct. 3, 2018) — Two vehicles were allegedly racing or speeding when they collided head-on with one or two other vehicles Wednesday morning on Angeles Crest Highway, according to a California Highway Patrol report.
The crash was reported to the CHP at 7:19 a.m. this morning. A white Honda Accord and a black BMW were allegedly racing and or driving recklessly prior to the crash, according to one witness. A red Dodge Dart and a grey Nissan Sentra were also involved in the collision. A man was found unconscious at the scene and the Los Angeles County Fire Department responded to help him and others who may have been hurt.
Both directions of the roadway were closed temporarily as police investigated the cause of the crash and liability.
Los Angeles County Accident Investigation
Police are piecing together evidence and will determine fault for this crash.
We hope that anyone hurt in this crash has a full recovery.
There are many steps that should be taken following a collision to ensure your legal rights are protected, but this can vary depending on the circumstances.
An injured person should seek out immediate and ongoing medical care until they are completely better.  If someone has died, a wrongful death claim may be pursued by surviving family members against those responsible and or their insurance company.
We hope you are able to get the help you need, but if you would like legal assistance, please call us at 855-703-4186 to request a free consultation.
Johnson Attorneys Group is a proud, long-time supporter of Mothers Against Drunk Driving.
ORIGINAL CHP REPORT
Incident: 00623 Type: Trfc Collision-1141 Enrt Location: Angeles Crest Hwy / Mm 27.65 Loc Desc: @ MM 27.88 Lat/Lon: 34.234661 -118.183683
Detail Information
10:18 AM 19 [34] PER 98-62M RDWY OPEN–
10:09 AM 18 [32] 98-62M ADVISNG THEY HAVE A SMALL AREA CLOSED OFF ; BOTH NB/SB ANGELES CREST IS OPEN
10:09 AM 17 [31] TASK .617 CTLA,INFO FOR DOT – CITZ REPT OF DOT CLOSING ANGELES CREST AT ANGELES FOREST ; PER 98-62M PLS OPEN THIS AREA UP
8:48 AM 16 [30] THIS WITNESS STATES A WHI N BLK VEH POSS WHERE RACING AND WRECKLESS
8:21 AM 15 [29] [Notification] [CHP]-JONS LL ADV ADD'L 17 MIN ETA DUE TO TRAFFIC [Shared]
8:13 AM 14 [28] LATE INFO – 98-62M REQ 3RD 1185 ;; PER CV TOW HAS FLTBED ENRT THAT CAN TAKE 2 VEHS
7:46 AM 13 [26] [Appended, 07:47:12] [8] POSS DUPE LOG 623 TC MM 27-88
7:43 AM 12 [16] CORR LINE 14 JON TOW
7:43 AM 11 [15] [Rotation Request Comment] 1039 CV TOW TOW FOR TRK #2 ETA 25–
7:41 AM 10 [14] [Rotation Request Comment] 1039 JOHN TOW ETA 35 TO 40 — 1 TRK FLT/BED
7:41 AM 9 [20] [Appended, 07:47:12] [2] 911 TRANSFER FM UNK AGENCY — PTY DISC WAS TRYING TO RPT POSS SOMETHING IN RDWY — NFI
7:39 AM 8 [13] 2 1185 REQ
7:39 AM 7 [12] BOTH DIRECTIONS ANGELES CREST CLOSED TO CLR LNS
7:31 AM 6 [8] DUPE* FIRE GOING 97
7:29 AM 5 [10] [Appended, 07:32:34] [1] WHI HOND ACC VS GRY NISS SEN VS BLK BMW VS RED DODG DART
7:21 AM 4 [7] 1039 ANGELES FOREST\
7:20 AM 3 [5] 1039 LACOFD
7:19 AM 2 [2] WHI HOND ACC VS BLK BMW // 1 MALE PTY POSS UNCONCIOUS
7:19 AM 1 [1] HEAD ON TC
Unit Information
James Johnson is passionate about educating the public about the myriad of individuals who are not following the rules of the road.His hope is to bring public awareness in order to change the laws to better protect our communities.
Latest posts by James Johnson (see all)