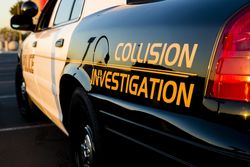 Motorcyclist Killed in Crash on Newport Road in Menifee
MENIFEE, Calif. (Sept. 11, 2018) – A motorcyclist died Monday night in a car accident on Newport Road at the intersection with Menifee Road, according to a report by the CAL FIRE/Riverside County Fire Department.
The crash was reported about 11:18 p.m. last night. Firefighters responded and found a vehicle and a motorcycle had collided. The motorcycle rider suffered major injuries and died at the scene.
The Riverside County Sheriff's Department (RSO) is overseeing the investigation.
Menifee Wrongful Death Investigation
The investigation into this collision is underway to determine fault.
We extend our heartfelt condolences to the family of the rider who died.  
There are many steps that should be taken following a collision to ensure your legal rights are protected, but this can vary depending on the circumstances. An injured person should seek out immediate and ongoing medical care until they are completely better.  If someone has died, a wrongful death claim may be pursued by surviving family members against those responsible and or their insurance companies.
Keep in mind that there are times when a government entity or an employer of an involved motorist that may share responsibility for an accident. All responsible parties can be identified during the investigation.
We hope you are able to get the help you need, but if you would like legal assistance, please call us at 855-703-4186 to request a free consultation.
Johnson Attorneys Group is a proud, long-time supporter of Mothers Against Drunk Driving (MADD)
James Johnson is passionate about educating the public about the myriad of individuals who are not following the rules of the road.His hope is to bring public awareness in order to change the laws to better protect our communities.
Latest posts by James Johnson (see all)