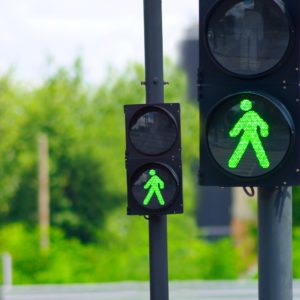 Pedestrian Hit by Car Near Trunk or Treat Event at Bear Valley and Central Roads
APPLE VALLEY, Calif. (Nov. 1, 2018) — A pedestrian was critically injured in a car accident Wednesday night as they walked near a Trunk or Treat event held on Halloween night.
UPDATE: Pedestrian dies of injuries.
It collision took place at the recycling center about 7:05 pm, on Wednesday, October 31, 2018.
The car accident took place at Bear Valley and Central Roads in Apple Valley.
Apple Valley Fire Protection District firefighters responded to help the injured person and requested they be airlifted by medical helicopter to Arrowhead Regional Medical Center. He later died of his injuries at the hospital.
Witnesses believe the victim was possibly on their way to the Trunk or treat or leaving it at the time of the collision.
The driver who struck the pedestrian had children in the vehicle with them. They stopped and cooperated with the police investigation.
Police set up a detour for traffic heading eastbound on Bear Valley Road towards Central Road as authorities investigated what happened.
Apple Valley Crash Investigation
Police are investigating the cause of this crash and liability. The investigation will seek to confirm fault by using evidence left by the vehicle such as point of impact, final resting positions of the vehicles, skid marks, and gouge marks.
We hope injured pedestrian has a full recovery.
A person who is hurt in a collision such as this one, has legal rights and grounds for a personal injury lawsuit against the driver who caused their injuries. It's important to take steps to ensure you are protected by speaking with a personal injury lawyer about your potential case.
If you have any questions for the attorney, contact our law firm today at 855-703-4186.
James Johnson is passionate about educating the public about the myriad of individuals who are not following the rules of the road.His hope is to bring public awareness in order to change the laws to better protect our communities.
Latest posts by James Johnson (see all)