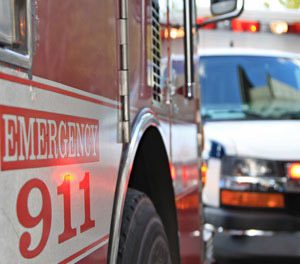 At Least One Hospitalized After Three Car Collision in Richmond
Richmond, California (May 16, 2018) — Three vehicles collided earlier this afternoon on the Interstate 580 Freeway near the Santa Fe area of Richmond.  The collision resulted in several injuries and significant property damage, according to a California Highway Patrol dispatch.
At about 12:54 p.m., a black Kia Soul was involved in an accident with a silver Toyota Camry and a silver BMW S.U.V.   It is currently unknown what caused the collision, but it ended with one vehicle facing the wrong way in lane 1, one vehicle blocking the 2nd lane and the third vehicle in the right shoulder.
According to a 911 caller, a person who was in one vehicle began to walk around on the road.  A team of medics quickly arrived on the scene and began to treat the injured.  It has also been confirmed that at least one individual was taken to a local hospital to undergo treatment although the extent of his injuries has not been released.
Police are currently investigating the scene to determine liability and additional updates may follow.
California Injury and Accident Specialists
If a negligent driver is at fault for a collision resulting in injuries to you or a loved one, there may also be grounds for a civil lawsuit or personal injury claim. This is always a personal decision, but for many the financial losses associated with a traffic accident are significant.
It's important to note, however, that it's quite common for insurance companies to try and avoid paying out a claim even when they know their insured is responsible. They may also make an offer to settle for far less than the full amount owed.
If you, or your loved one, have been hurt in a California traffic accident, we urge you to contact Johnson Attorneys Group today and speak with one of our experienced personal injury lawyers to help you. We will bring our expertise to your case and guide you every step of the way. Give us a call for a free consultation at 855-703-4186.
Latest posts by Michael Johnson (see all)