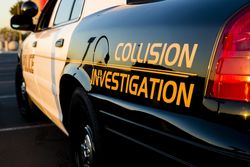 Man Killed, Woman Hurt in Crash on Highway 99
SUTTER COUNTY, Calif. – A 55-year-old Berry Creek man died and an Oroville woman was injured in a collision on Highway 99 early Monday morning at Riego Road, according to a report by Action News Now.
Related: 2 dead, 1 hurt in crash on Hwy 99 at Riego Road
The crash took place about 12:14 a.m. The man was heading southbound in a 2004 Chevrolet when he drifted off the road and struck a call box, but then veered back onto the highway and into northbound lanes. Roxanne Spiekerman, 37, of Oroville, was traveling in those northbound lanes when the Chevrolet was coming at her and struck the right side of her 2015 Volkswagen. The impact caused both vehicles to veer onto the dirt shoulder of the highway. The man  driving the Chevrolet died at the scene. Meanwhile, Spiekerman was taken by ambulance to UC Davis for treatment of moderate injuries.
Sutter County Accident Investigation
A full investigation into what led to this crash is underway.
Those of us at Johnson Attorneys Group offer our condolences to the family of the man who died. Our prayers go out to the injured woman in hopes of a full recovery.
If a negligent motorist has caused a collision that resulted in injuries, it's possible that you have grounds for a legal claim. If you would like legal assistance, please contact our experienced California personal injury attorney to request a free consultation at 855-703-4186. Nuestros abogados hablan español.
James Johnson is passionate about educating the public about the myriad of individuals who are not following the rules of the road.His hope is to bring public awareness in order to change the laws to better protect our communities.
Latest posts by James Johnson (see all)