Driver T-Bones Vehicle at Sanger Intersection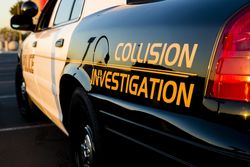 SANGER, Calif. (May 17, 2018) — At least one person suffered minor injuries Thursday morning in a two-vehicle collision at S. Quality and E. California avenues, according to the California Highway Patrol.
The crash took place about 1:28 p.m. between a black Jeep Cherokee and a red Volkswagen Beetle.  One of the vehicles T-boned the other vehicle at the intersection.
The CHP report stated that people were injured in the crash. Both vehicles were towed from the scene of the crash as they were damaged.
Fresno County Accident Investigation
Police are investigating this collision to determine fault. At this time we do not know the details, however, it's clear that there is a stop sign at Quality Avenue and anyone traveling from that street would need to yield the right-of-way to the other motorist.  If a negligent driver or another entity is at fault for a collision resulting in injuries to you or a loved one, there may be grounds for a personal injury or wrongful death claim. While this is always a personal decision, for many the financial losses associated with a traffic accident are significant.
If you, or your loved one, have been hurt in a California traffic accident, we urge you to contact Johnson Attorneys Group today and speak with one of our experienced personal injury lawyers to help you. We will bring our expertise to your case and guide you every step of the way. Give our office a call at 855-703-4186 for a free consultation.
James Johnson is passionate about educating the public about the myriad of individuals who are not following the rules of the road.His hope is to bring public awareness in order to change the laws to better protect our communities.
Latest posts by James Johnson (see all)