Rollover Crash Sends 2 to Hospitals in Ventura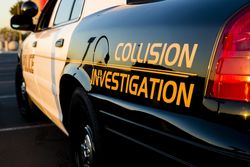 VENTURA, Calif. (August 10, 2018) — Two people were hospitalized Thursday night following a collision on South Petit Avenue and Henderson Road, according to the Ventura Star.
The crash took place about 10:11 p.m. at the intersection when a pickup truck overturned. The two occupants of the vehicle were ejected and thrown out into the roadway.
Paramedics responded and rushed the injured people to hospitals in undisclosed condition.
Ventura Accident Investigation
At this time, police are investigating what caused the collision.
We extend our heartfelt prayers to the injured people in hopes of a full recovery. 
In a case such as this one, there could also be more than one entity responsible for this collision including an employer if the driver was working at the time of the crash, an auto manufacturer or a government entity. A qualified attorney would conduct a full investigation into the circumstances and ensure all responsible parties are identified.
If you, or your loved one, have been hurt in a California traffic accident, we urge you to contact Johnson Attorneys Group today and speak with one of our experienced personal injury lawyers to help you. We will bring our expertise to your case and guide you every step of the way. Give our office a call at 855-703-4186 for a free consultation.
Johnson Attorneys Group is a proud, long-time supporter of Mothers Against Drunk Driving (MADD)
James Johnson is passionate about educating the public about the myriad of individuals who are not following the rules of the road.His hope is to bring public awareness in order to change the laws to better protect our communities.
Latest posts by James Johnson (see all)